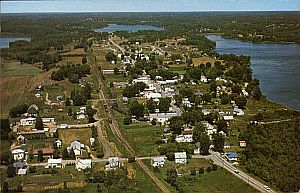 Verona Ontario, population about 1800, lies at the southern edge of the Canadian Shield, where the friendly mix of farmland, rocky-shored lakes, and mixed woodland make it the ideal place to visit, bring up a family, or retire.
[ At left, a postcard of Verona (around 1960) showing an aerial view of three of the many lakes surrounding Verona ]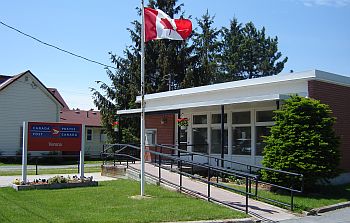 Verona has an active school, church, business and service community, all of whom contribute to its community-minded and friendly atmosphere. Its nearby parks and recreation areas are popular destination spots, and the annual Verona Lions Jamboree in July and Verona Festival in August entertain thousands of people from both the local area and afar.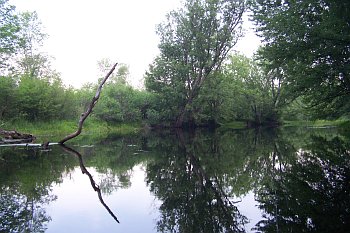 Verona provides a recreational paradise. Fishing and boating enthusiasts will find dozens of lakes surrounding Verona. Rock Lake, Howe's Lake, Eagle Lake, Bob's Lake, Desert Lake to name just a few. For the family, Verona has a beautiful beach area with summer swimming lessons, parks to play in, hiking trails and a beautiful countryside for lots of family pictures.
Verona is a warm, friendly community to raise a family or retire. It provides many businesses and services for all your needs. Verona has a post office, grocery store, drug store, restaurants, gas station, convenience stores, LCBO, hardware store and many more.
Verona is located centrally in a beautiful and historic region of Eastern Ontario, and easily accessed by highway 38. The town's location also means fast access to major Ontario and Canadian centres, Kingston within a half hour drive and Ottawa within 2 hours.