Family Fishing Day
Each year, the VCA sponsors a Family Fishing Day, timed to coincide with the weekend in July that Fishing Licences are not required for Canadian residents. Free BBQ, free prizes for the kids. Lots of fun for all!
Watch the Events Calendar for updates on dates and pre-registration.
5th Annual Verona Family Fishing Day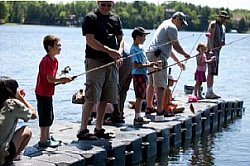 Saturday July 12, 2014 from 10am to 2pm
(sign in at 9am)
Pre-registration required.
Contact Linda Bates at 613-374-1307
Prizes for all kids under 16 and BBQ lunch at noon.
Canadian residents do not require a fishing licence for this event.
Some fishing equipment and bait will be available.
Participants will only be permitted to use barbless hooks.